News about the Rana turtle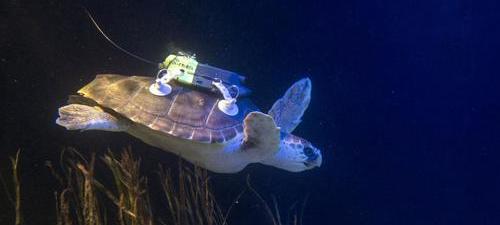 Do you remember Rana? This is the turtle collected and treated for four years by the Oceanographic Museum of Monaco. After his release and the few adventures to find the camera that filmed his first 24h of freedom, Rana has already traveled more than 300km. The Caouanne turtle has passed Port-Cros, the Calanques, Fos sur Mer … As of July 17, 2018, she is off Leucate, she runs along the coast, probably to find food and continues on her way to west … how far will it go?
The Oceanographic Institute of Monaco publishes its course on this website. So you can follow the journey of this turtle Caouanne over the days!
RANA A DEJA PARCOURU PLUS DE 300 KM ! La jeune tortue Caouanne a passé Port-Cros, les Calanques et est actuellement aux abords de Fos sur Mer. Elle longe la côte, sans doute pour trouver de la nourriture et continue sa route vers l'ouest… jusqu'où ira-t-elle ? Pour le savoir, suivez sa progression grâce à sa balise : http://www.institut-ocean.org/suivi/ (Images du début de son périple > extraites de la caméra fixée à sa carapace pendant 24h)

Publiée par Musée océanographique de Monaco sur Mardi 10 juillet 2018
Useful links:
© photo : Oceanographic Museum of Monaco
Oceanographic Museum of Monaco