The adventure of the turtle named Rana and her camera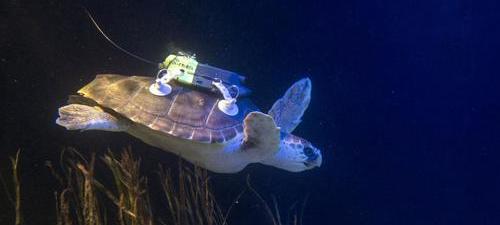 Around the 21st of June, as part of an action led by the Oceanographic Museum of Monaco, Robert Calcagno, Damien Chevalier & Olivier Brunel released a sea turtle named Rana who had been receiving treatment for four years. To monitor its evolution an animal tracking system was set up and a camera was placed on Rana. This camera was supposed to detach after 24 hours was lost for a few hours, then the time to launch a search notice on social networks (including the Facebook page of the Oceanographic Museum of Monaco).
Thanks to the rapid dissemination of this information, we know that the camera drifted and was recovered by Fabien Vachee from the company Osmose Nautique who brought him home for safety. Thus the scientists were able to recover this camera containing data that will give a lot of information about the first hours of the Rana turtle in its new environment, and also data on its diving behavior.
After these little adventures, the turtle goes well and continues her way: "Rana is well and swims fast, we follow her thanks to her GPS beacon, she was seen yesterday in Antibes, she is swimming this Thursday morning off the Lerins Islands. ", welcome the teams of the Oceanographic Museum.
Useful links:
© photo : Oceanographic Museum of Monaco
Oceanographic Museum of Monaco
Press article on Rana and its camera – Nice Matin