Finding sunfish's pop-up Argos tag with Goniometer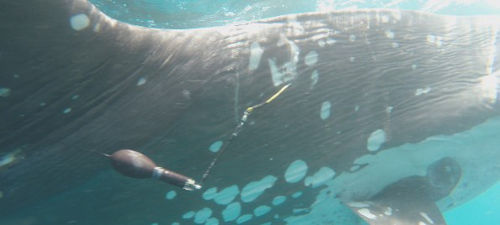 The Tuna and Billfish Tagging Project in Taiwan uses Argos satellite telemetry pop-up tags to track pelagic species. A total of five tags were recently retrieved using Argos Goniometer, including three tags on amberjacks, one on a big-eye tuna and one on a sunfish. Two of them were found on the shore and three were found off the coast of eastern Taiwan. The Argos Goniometer got the first signal at about 12 km from the tag and the signal updated in 2 to 3 minutes. Signal strength became stronger at about 2 km from the tag and the signal updated in 30 to 60 seconds. Signal reflections from buildings and mountains can make it a little difficult to determine the direction of the tags on shore – but not offshore.
Retrieving tags with the Argos goniometer
By retrieving the tags, Wei-Chuan (Riyar) Chiang and his team gained access to the data stored in the pop-up's internal computer but not transferred by satellite. The goniometer is a key tool for wildlife protection because retrieving the tag gives scientists access to additional data. Furthermore, the recuperated tag can be redeployed on another fish.