Argos transmitter, dedicated to track small bird.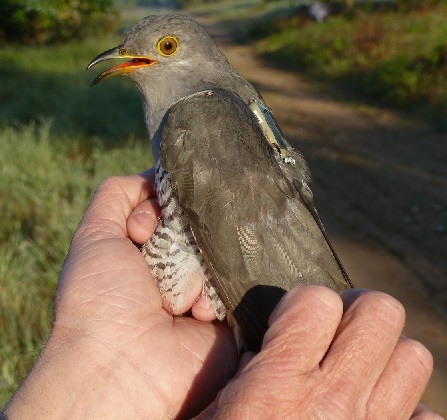 The ARGOS system is a unique worldwide satellite tracking and environmental monitoring system created by the French Space Agency CNES, the NOAA (National Oceanic and Atmospheric Administration) and NASA (National Aeronautics and Space Administration).
Each month more than 8000 animals are tracked by scientists, NGO, agent in charge of wildlife preservation, etc. All the ARGOS transmitters send their location and data to the ARGOS constellation , which transmits these crucial informations to CLS (Collecte Localisation Satellites). This subsidiary of The French Space Agency is a worldwide company and pioneer provider of monitoring and surveillance solutions for the Earth since 1986.

CLS operates the ARGOS system .  CLS designs the ARGOS payloads and acquires processes, manages, distributes to the international community the ARGOS data .
Thanks to the miniaturization of transmitter, more and more wildlife species can be observed and protected. 
This 5g transmitter equips bird such cuckoo.