Two tags on a shark: a world first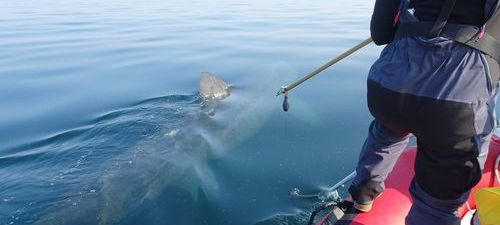 The french association APECS (Association for the Study and Conservation of Selachians) is a Brest association dedicated to the study and conservation of sharks and rays. The members of this association regularly use Argos tags to be able to follow the selected specimens to better understand their behavior.
Last May, APECS tagged sharks again with tags but this time, the members of the association paired two tags (SPOT & MiniPAT) on the same animal. This process is used for the first time on basking sharks and will help to understand the behavior of this animal when it remains submerged for long periods.
---
"To our knowledge," explains Alexandra Rohr, project manager, "this double tagging is really a first – it was done on whale sharks, but not on basking sharks." The SPOT tag indicates the position of the shark when it is on the surface The MiniPAT will allow us to record different parameters such as pressure, water temperature and brightness. […] It may be a huge fish, finally we have very few information on the biology, the ecology of the species, deplores the mission manager.In winter for example, as it is almost never on the surface, we do not know where it is at all."
---
Useful links:
French Article about this action
© photo : Laying a tag on Mari B, female shark of 6.50 meters. / © M.SIMONET-APECS