Satellite tracking migratory birds from the united arab emirates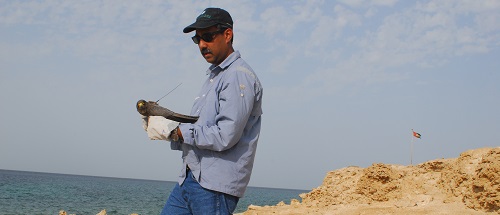 Dr. Salim Javed, Manager, Terrestrial Assessment and Conservation Section at Environment Agency – Abu Dhabi
Dr. Salim Javed has undertaken and completed several important projects on birds including satellite tracking of Eurasian Cranes and Bar-headed geese in India and has successfully satellite tracked many important species in the UAE including some for the very first time such as the Sooty Falcon. His work focuses on using satellite telemetry and other modern technologies in decision making to help the local government in protecting key species and sites. He used Argos for nearly 15 years and first tracked Eurasian Cranes from India in 1999. He has tracked 12 species so far.
When did you start to equip Animal with ARGOS transmitter?
I started tagging birds with Argos device in 1999 when we tagged few Eurasian Cranes in India, followed by first ever tagging and tracking of Bar-headed Goose in India. After moving to UAE in 2001, I started tracking birds in the UAE since 2005.
How many animals did you equip with ARGOS transmitter?
So far I have tagged and tracked over 90 birds with Argos transmitters.
What kind of species did you equip?
I have tagged and tracked mostly birds ranging from Eurasian and Demoiselle Cranes, Goose, Flamingos, Eagles, Falcons, Crab Plovers, Terns and Gulls
What did you discover?
We successfully tracked many species, some for the very first time such as Bar-headed Goose, Sooty Falcon, Crab Plover, Sooty Gull, Crested Tern and Red-billed Tropicbird and in the process discovered there migratory routes and stopover sites. We found the Bar-headed Goose flew over Mt. Everest to reach its potential breeding ground in Qinghai Plateau in Tibet. Our Sooty Falcon tracking helped us in identification of wintering areas of the species in southwestern Madagascar, areas which are intensively cultivated and may have implications on the species in terms of pesticides etc. We also established that the flamingos which winter in the UAE come from potential breeding colonies in Iran and Kazakhstan and in 2009 discovered one of the biggest breeding colonies of the species in coastal Abu Dhabi following tagging of the bird in 2007.
How your discoveries can help you to preserve or understand biodiversity?
The discovery of flamingo breeding colony has led us to propose the area as protected area and hopefully the government would declare that as a protected area and hence would not only help in protecting flamingos but a range of waterbirds and their habitats. We have also effectively used tracking results to stop some of the development projects planned on some key breeding islands and thus has helped in conserving the breeding and feeding grounds for the species and also their habitats.
Salim Javed, Argos user since 1999