Oriental Pratincoles: long-distance migrant birds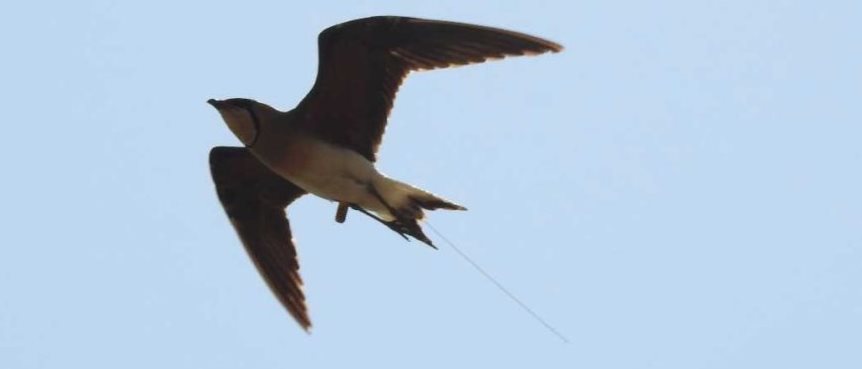 Oriental Pratincoles, Australia's most numerous shorebird, spend up to three months in Australia, migrating to various parts of Asia to breed. To date, traditional marking using bands and flags has produced little insight into their destinations & migration paths. Using 2 g Argos satellite telemetry tags, their migration is monitored day by day by the Australasian Wader Studies Group. Trajectories of up to 6350 km have been recorded, surprising even the experts. 
Small bird, long distance
The Oriental Pratincole (Glareola maldivarum) is categorized as a small wader, utilizing, open farmland, grasslands and tundra throughout its range, feeding on insects, mostly while in flight. Oriental Pratincoles breed in colonies in South-East Asia and from Vietnam in the south to Russia in the north and from Pakistan in the west to Japan in the east, laying 2-3 eggs on bare ground in open areas. Most spend the non-breeding season in Australia. Their population is now estimated at about 2.8 million birds, since an enormous colony was discovered in North West Australia in 2004 (probably as a consequence of a locust plague at the time, seemingly attracting most of the world's population of Oriental Pratincoles). They are rare north or west of the breeding range, but, amazingly, this species has been seen as far away as Great Britain more than once.
More info about birds tracking
A tracking made possible by Argos telemetry
In the past, Oriental Pratincole have been banded in the hope to get some insight into their movements. Despite over 620 individuals marked in Australia over the years, there had only been one recorded re-sighting of a marked bird breeding, in Taiwan. With the latest Argos satellite telemetry technology now light enough for use on these birds, we are able to track them all the way to their destination.
In February 2019 fourteen birds were caught, and five fitted with 2-g Argos PTTs. Different behaviours began to emerge very quickly. Two birds moved north east over Australia's outback almost immediately after release. Over the next three weeks they visited a range of different locations at distances of up to 1200 km from the catching location. Then heading northwards towards Southeast Asia. The two other Oriental Pratincoles went directly for a northward migration. Towards the end of April the birds seem to settle at their locations probably to breed, two in Cambodia, one in Taiwan and the fourth in India. The fifth bird fitted with a PTT failed within two weeks of release, cause unknown. Not only Argos tracking enabled to locate them and calculate that they have flown distances from 3840 km to up to 6350 km (from mid-Feb 2019 to mid-June 2019) but when in Asia, their exploratory and foraging trips were also monitored and analyzed. Moreover, using the location of the presumed breeding sites, local teams in India and Taiwan were able to check on the birds and gather further important information on the habitat and behaviour.
To be continued…
Mid-June, the two Cambodian birds may have completed the breeding for the season since they began moving south but interestingly they remained in their 'second' locations for over 70 days. With an egg to fledge time of 49 to 52 days and tracks similar to their presumed breeding grounds earlier, the question of whether another breeding attempt in a different location is raised.
Links:
For updates on the pratincoles tracked and details on their tracks: https://wingthreads.com/blog/
Photo: An Oriental Pratincole with an Argos PTT antenna (Credit: Subbu Subramanya)