MARY LEE: Argos tagged shark becomes Twitter star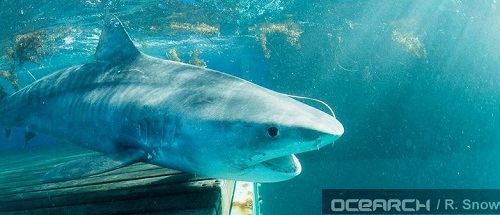 Mary Lee has recently attracted a lot of attention on social media through her @MaryLeeShark Twitter account. This 3.500 pound white shark was tagged two years ago by Gregory Skomal, Senior fisheries biologist with Massachusetts Marine Fisheries, with an Argos state-of-art satellite transmitter, providing essential data for a better understanding of shark behavior.
East coast white shark Mary Lee followed by 64.000 Twitter users
White shark Mary Lee recently drew a lot of attention through social media, probably making her the most "liked" tagged-shark ever. Between cruising up and down east coast waters and feeding, she keeps almost 64,000 Twitter followers up to date with her daily activities and movements.
Her movements are tracked online and in real time on OCEARCH, a non-profit organization working with shark expert Dr. Gregory Skomal to study white sharks and other large apex predators.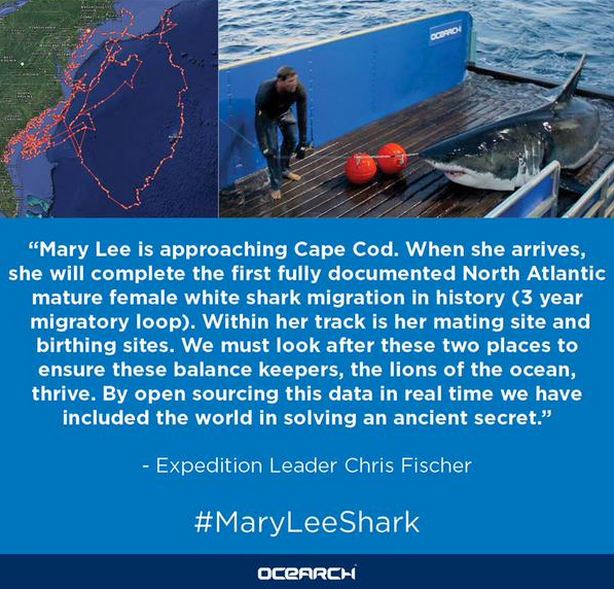 Using Argos Satellite tracking data to track great white sharks in the Western North Atlantic
During 2012, Dr. Gregory Skomal and the OCEARCH team tagged the female shark with an Argos satellite tag off the coast of Cape Cod, MA in order to get a better understanding of white sharks, whose behavior still remains, for the most part, a mystery. "We know very little about where they are going, and even less about what they are doing!" Skomal stated during the International User Conference on Argos Wildlife Applications, IUCAWA, held at Baltimore in November 2014.
"What we thought we knew based on fisheries dependant data is just only a part of the story" he added during the conference. For him, the explosion of technology, such as Argos satellite tracking, enhances study possibilities for researchers.
Using Argos Satellite technology, wildlife monitoring expert Dr. Skomal tagged more than 56 white sharks since 2009 in order to examine fine-and broad-scale movements, habitat-use, site fidelity, residency and feeding behavior.
Dr. Skomal followed Mary Lee's 16.000 miles journey through the waters of -Florida, Bermuda and Cape Cod thanks to regular "pinging" of her location via satellite transmitter.
Improving sharks' "popular appeal" with satellite tracking data
"Not only is it important to know this information relative to biology, ecology and conservation work, but there's a public safety aspect of it as well, that we're digging deep into"– said Skomal.
Hopefully, this attention on white shark Mary Lee will help overcome misconceptions about those impressive, but endangered creatures, who not only rely on scientists to protect them, but also on their "appeal" with the general public.