Understanding the tracking of three loggerhead turtles with ocean data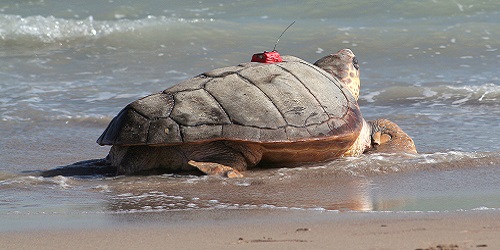 Trajectories of loggerhead turtles in the Atlantic ocean and the Mediterranean Sea have been tracked using Argos transmitters. Comparing the tracks with marine environmental data provides a better understanding of the movements of these animals.
35 years of monitoring….
For more than 35 years, technology and methods of fixing satellite transmitters have evolved, thus making it possible to monitor the movements of marine turtles at sea at all stages of their lives. These tags reveal the daily positions of these emblematic species threatened with extinction and can also transmit certain parameters related to their behaviour (e. g. diving) and/or their environment (e. g. temperature) over long periods of time.
Once collected, the turtles' Argos positions are then superimposed on maps of different environmental parameters (such as chlorophyll, sea level anomalies, surface currents, temperature, etc.) to try to highlight the factor(s) that can influence the movements of these animals.
… loggerhead turtles
The loggerhead turtle (Caretta caretta), a marine species classified as vulnerable according to the International Union for Conservation of Nature's Red List, can be found in all the world's oceans and open seas: temperate and tropical regions of the Atlantic, Pacific and Indian oceans, as well as the Mediterranean Sea… It is one of the only marine turtle species which can nest in temperate zones.
The life cycle of the loggerhead turtle is complex and includes a number of changes, with juveniles moving with ocean gyres, before moving closer to the coast, when they reach a certain size, and becoming loyal to a feeding area. Mature adults leave these feeding areas to reach breeding sites, migrate between oceanic and coastal areas or remain in coastal areas. Although the life phase of juveniles in the open sea is long (at least ten years), this phase is the least studied and the number of juveniles, their movements and behaviour are poorly documented.
More info about marine animals tracking
Icare
Icare, a young loggerhead turtle was released on 29 June 2018 from a beach North of the island of Ré (Charente-Maritime, Western France). This turtle had been found in January 2018 on a beach in Mimizan (Gironde, South-West of France) and taken care of by the Centre d'Études et de Soins pour les Tortues Marines (CESTM) of the Aquarium La Rochelle. CESTM coordinates the Eastern Atlantic Marine Turtle Network and welcomes all marine turtles found stranded or in distress drifting along the Channel & Atlantic coasts of France (from the Spanish border to the Belgian border).
Studying his route, the CESTM notes that Icare made a great loop off the Azores archipelago between 24/10/2018 and 22/12/2018. By correlating its movements with the maps of sea level anomalies (SLA Sea Level Anomalies or variations in sea level) and dynamic height (Absolute Dynamic Topography or SSH sea surface heights), we see that this loggerhead turtle seems to follow very precisely the boundary between two areas showing steep variations in sea level. These front areas are generally nutrient-rich. At a scale of 10 to 200 kilometres, mesoscale eddies are created and mix primary production heterogeneously, thus affecting the distribution of the entire food chain. These eddies and fronts, evolving both spatially and temporally, are essential feeding habitats for many pelagic predators such as marine turtles.
The animation shows the route of Icare between 29 June 2018 and 4 June 2019 superimposed on sea surface heigth (dynamic topography). Between October 24 and December 22, 2018, we observe that the turtle circles an area with height below average (around which the currents rotate counter-clockwise).
Antioche
Antioche, a young loggerhead turtle was followed in 2009 by the Centre d'Études et de Soins pour les Tortues Marines (CESTM) of the Aquarium La Rochelle. The originality of this turtle's journey is that it has entered the Mediterranean after having travelled along the coasts of the entire Iberian Peninsula, thus showing the ability of juvenile turtles to enter the Mediterranean thanks to the surface currents in the Strait of Gibraltar.
See the case study made for the Argonautica educational project in collaboration with CESTM
Vita
Vita is a loggerhead turtle that was captured in the Balearic Islands on July 2018 by NGO Alnitak. It was equipped with a satellite tag and oceanographic sensors that provided real-time data to ICTS SOCIB.
The animation highlights how this turtle moved in relationship to mesoscales structures like the eddies from the Algerian basin.
Links
Photo courtesy of Aquarium La Rochelle SAS.