Follow HUNIDA, a whale Shark near Djibouti with MEGAPTERA association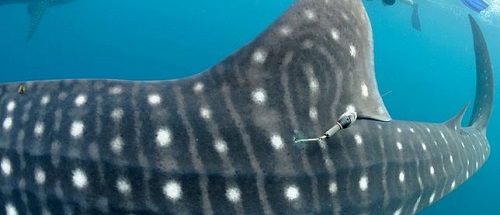 The first whale shark was tagged in the Gulf of Tadjoura, Djibouti, 2006. Two more followed in 2011. The Argos system allowed the association to track one of the whale shark until island of Socotra. While the other went up the Red Sea to face the coast of Yemen, where MEGAPTERA lost track of him. In January, they introduced two other tags on whale sharks. One was detached prematurely and fortunately, they recovered it. The tag will be available for the next mission. The other continues to send and provides reliable information on the behavior of the whale shark, named Hunida.
Thanks to the ARgos tag, MEGAPTERA collect GPS location data and ARGOS data, the location system and collection of data by satellite dedicated to environmental monitoring. the tag aims to record data on the behavior of sharks throughout the period during which it has been programmed. In this cas, ti was a period of 3t months, as the depth at the whale shark probe, the duration of dives, the temperature of the water or the brightness of the water environment.
Megaptera involved in the establishment of codes of conduct during the whale watching and whale shark. The whale ecotourism (whale watching or whale watching) can be organized and controlled to become a real alternative to the resumption of hunting and a source of income for local people.
SHARKY DJ Project
Juvenile whale sharks, from 3.5 m to 4.3 m in length, form annual aggregations in the Tadjura Gulf off Djibouti. Since 2003 they have been monitored by individual photo ID.They seem to be resident in the Tadjura Gulf over several consecutive years ( between 4 and 11) before definitely leaving the djiboutian waters to reach the Red Sea and the Indian Ocean.
Where do they go ? The SHARKY DJ project, supported by the French NGO MEGAPTERA will try to answer these questions over a 5-year period (2016- 2020) The goal of this project is to identify individuals with photo-ID and deploy on some of them Argos satellite tags (model MK10) in order to investigate their movements and diving behaviour. Gathering such data will significantly improve our knowledge of the biology of whale sharks and help design better methods for their conservation. The first field mission occurred from December 31st to January 8th, 2016. During that mission, one MK10 tag was deployed on a whale shark named HUNIDA.
Project Partners :
The French NGO MEGAPTERA, specialized in the monitoring of whale sharks and in the development of eco-friendly tourism to watch whales sharks.

The Djiboutian NGO DECAN in charge of the management of the marine protected area dedicated to whale sharks in Djibouti waters.

The Koweiti NGO Senyar Dive Team in charge of underwater and drone footage.

Label Bleu in charge of a video documentary about the field mission.
To learn more about the project :
SHARKY DJ project on seaturtle.org
MEGAPTERA (french) / Photo gallery
Facebook groups :
https://www.facebook.com/groups/245858758805982/
https://www.facebook.com/groups/38357713249/