Argos profiling floats onboard the Barcelona World Race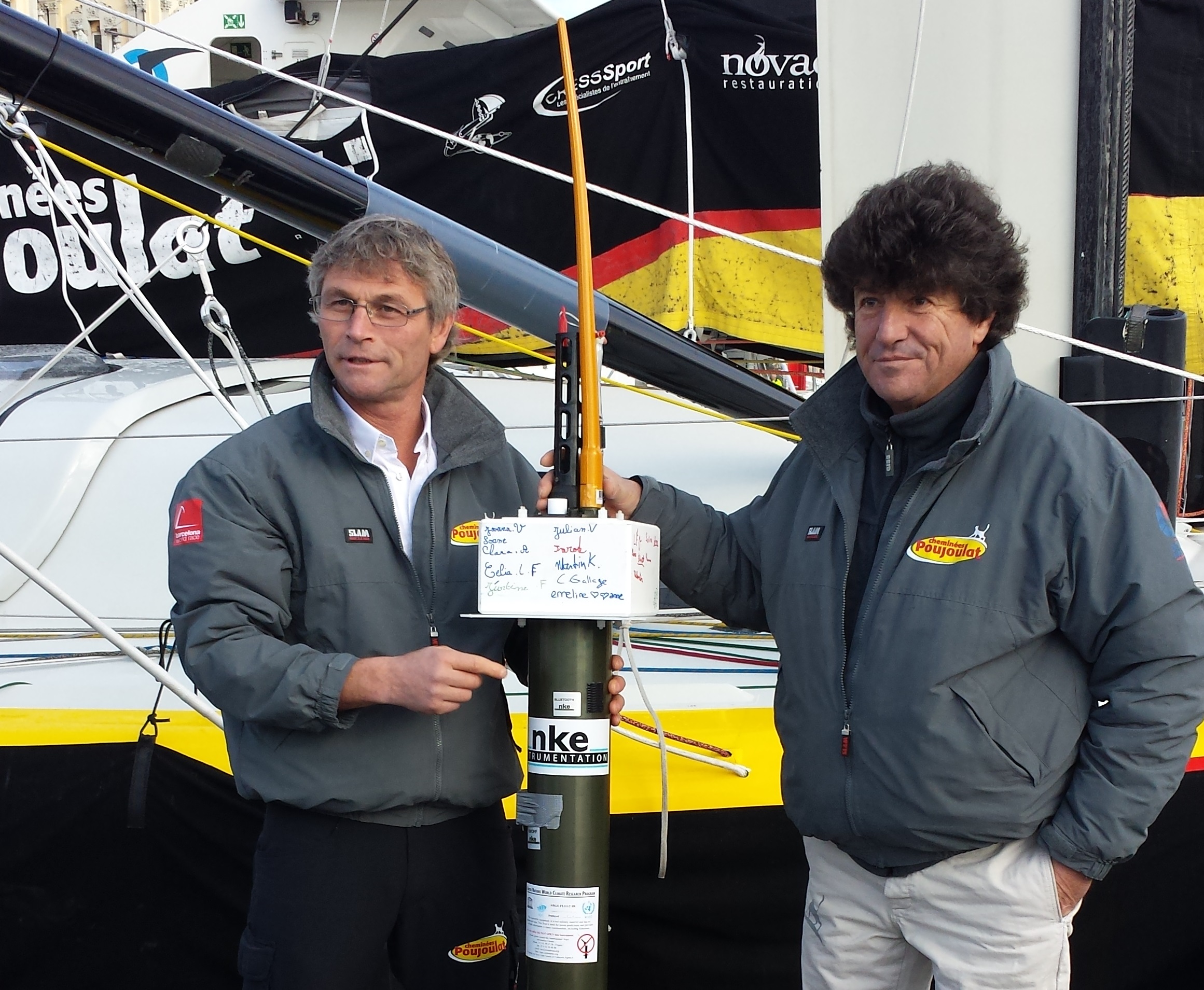 On "Argo Day", all of the boats participating in the Barcelona World Race 2014/15 will launch an Argo profiling float into the ocean, as part of their round-the-world voyage. The seven IMOCA 60 of the Barcelona Race have become "ships of opportunity" in an operation coordinated by JCOMMOPS, IOC-UNESCO, and the Fundació Navegació Oceànica Barcelona (FNOB).
How it works
On Friday, January 23rd, 2015, the seven skippers of the Barcelona World Race will each launch an Argos ARVOR-L CTD profiling float into the Indian Ocean, to join the 3,600+ other Argo floats already operating in the world's oceans as part of the Argo international ocean observation network. The deployment operation is coordinated by JCOMMOPS, and the launch spot in the Indian Ocean allows for a good spatial distribution in the existing array. The Argo floats are provided by the French oceanography research organizations, Ifremer and SHOM, and are manufactured by NKE. They are 1.7 metres tall and weigh some 22 kg, and have been stored onboard since the skippers left Barcelona on December 31st.
Contributing to ocean and climate research
Once deployed, the profiling floats will collect very accurate data on sea temperature and salinity levels from depths of 2,000 metres right up to the sea's surface. The information collected will then be transmitted via the Argos satellite system to the CLS processing center. CLS then distributes the data to Coriolis center for quality controls and analysis by international ocean research networks. This information is fundamental for oceanographic study of the behavior of huge masses of water, a key part of understanding the evolution of the planet's climate.
A complete scientific program
The Barcelona World Race is the first ocean race in history to require skippers to deploy Argo floats. The deployment of Argo floats is just one aspect of the scientific program implemented by the race organizers and coordinated by UNESCO-IOC. Other projects include:
· The measurement of salinity levels and sea temperature
· The measurement of the concentration of microplastics in the seawater
· The Citclops project to analyse the quality of surface seawater
For more information
About the Barcelona World Race: http://www.barcelonaworldrace.org/en/
About the Argo program: http://www.argo.net/